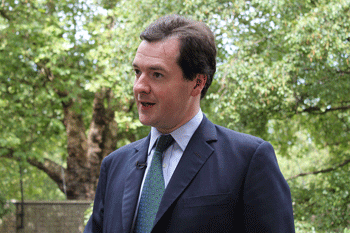 Chancellor George Osborne has announced benefits will be frozen for two years, as part of the government's plan to eliminate the UK's budget deficit.
Osborne said a freeze in benefits, which would not apply to pensioner or disability benefits, would save the country over £3bn. 'The fairest way to reduce welfare bills is to make sure that benefits are not rising faster than the wages of the taxpayers who are paying for them,' he said.
The chancellor said that while the deficit has almost been halved since the government came to office, latest estimates from the Treasury show that a further £25bn of permanent public expenditure savings or new taxes must be found to eliminate it entirely.
He said: 'Now I'm not going to pretend that finding £25bn of spending savings will be easy; but nor is it impossible.
'So, to eliminate the deficit and finish the job, we will reduce Whitehall spending by at least the same rate for the first two years of the next Parliament as we have done through this Parliament.'
Osborne said this would save at least £13bn and also pledged continued restraint on public sector pay.