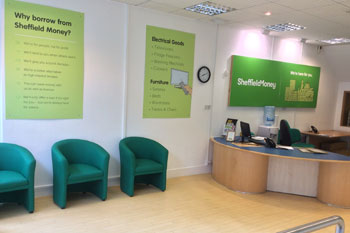 Sheffield City Council has become the first in the country to open a one-stop-money shop to help residents avoid payday and high interest lenders.
Sheffield Money opened its doors today, having been set up by city leaders who joined forces to provide people with a new way to access affordable credit, with lower cost loans and finance.
The project is the outcome of Sheffield Fairness Commission's plans to help the city's 50,000 residents who are borrowing an average of £800 each at extremely high interest rates (sometimes thousands of percent APR), sometimes causing debts to spiral out of control.
Operating as a broker service, the not-for-profit business brings together a range of responsible companies providing access to loans, credit for white goods, savings and bank accounts together with independent money and debt advice, all under the Sheffield Money brand. This allows residents access to a range of products that might have otherwise not been available to them.
Leader of Sheffield City Council, cllr Julie Dore, said: 'Payday and doorstep lenders have been ripping off and exploiting people most in need of credit, especially some of the most vulnerable people in our city, preying on their need for available credit and charging extortionate interest rates.
'People need a real alternative which will stop them being forced to go to these notorious lenders. That is why we have worked hard to create a new, ethical and affordable credit option by starting Sheffield Money.
'We need to stand up for people in Sheffield and Sheffield Money will send the message loud and clear that there is now a more ethical and affordable option available in our city.'
Rev Peter Bradley, dean of Sheffield Cathedral and chairman of Sheffield Money, said: 'Sheffield Money is a bold and innovative solution to the problem of high-cost credit in our city.
'More people are struggling to make ends meet and for many, trapped in a cycle of borrowing more to cover extortionate loan repayments, this becomes a living nightmare.
'We have set up Sheffield Money to provide an alternative to this. It's been remarkable to see the whole city come together to set it up and I'm very proud that Sheffield Money has been created by Sheffield people for Sheffield people.'