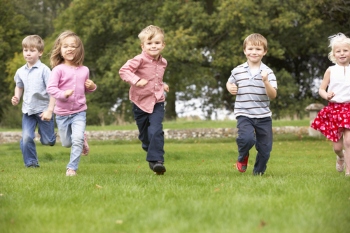 The Government should help local authorities provide more affordable leisure opportunities, council chiefs say as study reveals children from lower income families are not getting enough exercise after the pandemic.
A survey of 1,000 parents for children's charity, the Early Intervention Foundation, has found that only 19% of children between the ages of one and five get more than three hours of physical activity a day. This means that most children are getting less than the officially recommended amount needed to grow up healthily.
The Early Intervention Foundation's 2021 report 'Growing up in the Covid-19 pandemic: An evidence review of the impact of pandemic life on physical development in the early years,' had previously found 'the majority of studies of older children or studies from other countries report a decrease in physical activity as well as a decrease in positive attitudes towards physical activity as a result of Covid-19.'
The YouGov survey also revealed that a family's income affected the level of exercise children were getting. In households earning under £30,000 this was only 13%, versus 23% where the household income was over £50,000.
Dr Jo Casebourne, chief executive at the Early Intervention Foundation, commented: 'In light of growing health disparities between disadvantaged children and their better-off peers, it is concerning to know that so many parents are worried about the cost of taking their child to a play area.
'We think parents, especially those from low-income households, need access to affordable and safe spaces and we need to ensure that children's physical activity isn't forgotten about post-lockdown.
'Getting enough physical activity in the early years is essential for children's physical and mental wellbeing, as well as their development throughout childhood and positive health outcomes later in life.'
Responding to the survey findings, Cllr David Fothergill, chairman of the Local Government Association's Community Wellbeing Board, said more needed to be done to create 'healthy places'.
'Childhood obesity is one of the greatest public health challenges we face, and as these alarming findings show, has been made all the more difficult by the detrimental impact of the pandemic on children's physical activity,' he said.
'Children playing outside – getting grass stains on their clothes, twigs in their hair and grazing their knees – is a fundamental part of growing up
'To help increase levels of physical activity across all ages, it is vital that we tackle the inequality of access to green spaces, particularly for those living in more economically deprived areas.
'Leisure centres, which provide family activities such as swimming pools and soft play areas, also continue to face significant financial pressures, with a combination of lower footfall and rising energy prices leaving many providers struggling to remain operating.
'This is why Government, key partners and stakeholders need to work together with councils to create healthy places with accessible green spaces and affordable sport and leisure opportunities.'