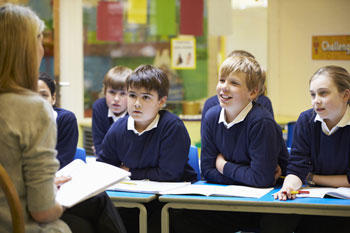 Ofsted has struggled to meet its inspection targets due to 'significant' financial and staffing challenges, auditors say.
A new report from the National Audit Office (NAO) has found that between 2012/13 and 2016/17 Ofsted failed to meet its statutory target to re-inspect schools within five years in 43 cases.
This amounts to 0.2% of the schools they inspected.
The report also showed Ofsted had struggled to achieve its own targets for how often schools should be inspected.
Between 2012/13 and 2016/17, for example, it did not meet its target to re-inspect schools graded as 'inadequate' in 78 cases (6%).
The NAO found that the school inspectors were struggling because of a lack of funding and a shortage of inspectors. It also said Ousted did not know whether its inspections were leading to school improvements.
'Ofsted's role as an independent inspector is valued by parents, headteachers think its judgements are fair, and it is making headway against recent performance shortfalls,' said Amyas Morse, the head of the NAO.
'However, it needs better information to be able to demonstrate that its inspection of schools represents value for money.
'The fact that Ofsted has been subject to constant cuts over more than a decade, and regular shifts in focus, speaks volumes. It indicates a lack of clarity about how best to obtain assurance about the quality of schools.
'The Department [for Education] needs to be mindful that cheaper inspection is not necessarily better inspection. To demonstrate its commitment, the Department needs a clear vision for school inspection and to resource it accordingly.'
Responding to the report, Amanda Spielman, Her Majesty's chief inspector, said: 'Like much of the public sector, we are operating in a difficult financial climate. As the report acknowledges, the envelope provided by the Department for Education for school inspection is 52% less, in real terms, than it was in 2000.
'This means that we have had to make tough decisions about how we prioritise resources. I am confident that Ofsted gets the balance right.'
'Ofsted is only one lever in the school system, which is why it has proven difficult for the NAO to judge our impact and value for money. As we have made clear to the NAO, judging ourselves against school outcomes would inevitably create perverse incentives. We exist to provide an objective account of the quality of the nation's schools,' she continued.
'The NAO's conclusion that we cannot prove the value for money we represent is explicitly not the same as demonstrating that we do not provide value, particularly considering that the costs of our school inspection work represents just 0.1% of the overall school budget.
'We are confident we compare well against other school inspectorates internationally, something the NAO did not look at.'