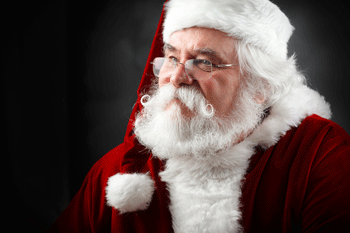 A Christmas card stating Santa must live on a council estate because of his 'record for breaking and entering' has been withdrawn.
Clintons Cards was forced to apologise this morning for stocking the card, labelling the move a 'mistake'.
Further reasons for Father Christmas living in social housing detailed on the card included 'he's never actually been seen doing any work in his whole life', 'he drinks alcohol during working hours' and 'he gets letters from [a] lot of people, all demanding that he owes them things'.
Hundreds took to Twitter to voice their disapproval with the £2 card, branding it 'snobby' and 'shameful'. However a number voiced their support for the card, describing it as 'so funny'.
At last I can join in with some OUTRAGE. I live on a council estate so demand Clintons resign from High Street now! pic.twitter.com/d4chRLHA4p

— Pete Brandon (@PeteBrandon) December 7, 2014
A statement from Clintons Cards on the company's website said: 'This card in our range has been withdrawn. It is in no way reflective of our views and we apologise without reservation.
'We are investigating how this offensive card got through our quality control procedures, which we will review and tighten as a result of this incident. This was a mistake and we deeply regret the upset that this has clearly caused.'
The scandal came as councils were blasted as 'Scrooge-like' by pressure group The Christian Institute, after research suggested only half of councils in Britain send out greeting cards mentioning Christmas.
Findings published in the Telegraph also suggested that out of 200 polled town halls, only one was sending a card mentioning the birth of Christ.
Image: Clintons Cards