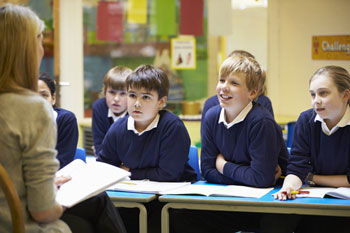 The proportion of pupils getting into their first-choice secondary school is falling, according to the latest figures.
The Department for Education shows that 82.1% of applicants for a secondary school place were given their first choice this year, down from 83.5% in 2017.
But at primary level the proportion of pupils getting their first choice of school rose from 90% in 2016 to 91%.
The changes reflect the increase in the birth rate during the early 2000s whose effects are now moving from the primary to secondary level.
Overall there were 582,761 applications for a secondary school place this year, an increase of 3.6% on 2017 and the highest number since the figures started to be collected in 2008.
Geoff Barton, general secretary of the Association of School and College Leaders, said: 'It is of paramount importance that the Government ensures sufficient numbers of good school places are provided to meet local needs.
'This is particularly challenging in a complex and fragmented system.
'The Government has to work closely with local authorities and existing groups of schools to ensure that children are able to access places in good local schools and that no money is wasted on places which do not meet demographic needs.'