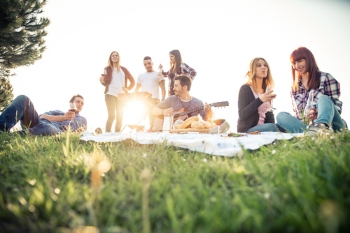 The leader of Nottingham City Council yesterday called on residents to stick to social distancing rules as lockdown restrictions are eased.
Cllr David Mellen's comments came after large crowds gathered Monday evening in a park where a 'selfish minority' behaved 'thoughtlessly and recklessly' by ignoring social distancing rules and leaving large amounts of litter behind.
'The scenes from the Arboretum yesterday evening are extremely disappointing, with a selfish minority abusing the easing of restrictions and spoiling it for others,' he said.
'We have all made sacrifices over the last year to keep each other safe. Over 600 local people have died due to the virus. We owe it to their families, to each other and to frontline workers not to jeopardise the strides we have made towards reducing the spread of COVID by acting so thoughtlessly and recklessly.'
'The roadmap is a cautious way out of this terrible situation and we all need to abide strictly to its rules. They currently allow up to six people or two households to meet outside – but other necessary precautions such as social distancing remain in place.
'We need everyone to take on their own personal responsibility as the roadmap gradually grants us more freedom.'
Cllr Mellen's comments were echoed by health secretary Matt Hancock who yesterday warned the country on Twitter not to 'blow it now'.
Let's enjoy the sun but let's do it safely. We have come so far, don't blow it now.

— Matt Hancock (@MattHancock) March 30, 2021