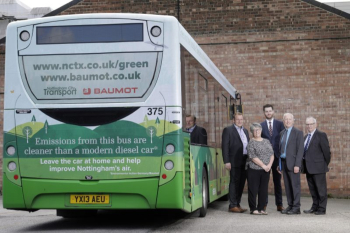 Nottingham City Council is no longer considering introducing a Clean Air Zone after outlining other measures to improve air quality.
The council has decided to retrofit 180 buses with clean exhaust technology, ensure every taxi and private hire vehicle in the city is low emission, and replace its own heavy vehicles with electric or other low emission vehicles.
Cllr Sally Longford, the council's portfolio holder for energy and environment, said this would reduce air pollution to below the legal limit without the need for a Clean Air Zone.
Cllr Longford said: 'Results of air quality modelling showed these measures will have a significant effect in reducing emissions, bringing Nottingham into compliance by 2020.
'Although we considered a Class B Clean Air Zone – which would have affected HGVs, buses and taxis – the actions we're taking will have a positive impact across the whole city, rather than just in one area.'
The council is also considering amending the city's two Air Quality Management Areas to cover the whole city.