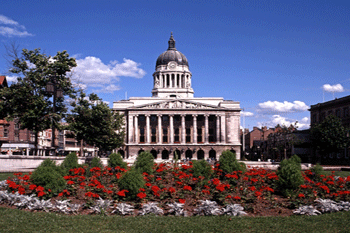 The Government has given a plan to tackle air pollution in Nottingham city centre the go-ahead.
City council officers linked with Defra and the Department for Transport to work out how to reduce pollution in the shortest possible time and deliver compliance with legal air quality limits.
Nottingham is the first local authority to have their air quality plan approved as part of the Government's wider £3.5bn programme to tackle harmful emissions from road transport.
Environment minister Thérèse Coffey said: 'I am delighted to approve Nottingham City Council's new air quality plan.
'Air pollution is the top environmental risk to health in the UK and these government-funded plans will clean up the air in the city centre, protecting residents and visitors alike.
'The plans have been finalised thanks to hard work and collaboration – a brilliant example of what can be achieved when local and national government work together towards a common goal.'
Sally Longford, the council's portfolio holder for energy and environment, said: 'We're looking forward to progressing these schemes to clean up the city's buses and taxis, building on our strong track record in improving air quality through investment in sustainable transport, such as the electric tram, our award-winning electric and biogas bus fleets and cycle network.'