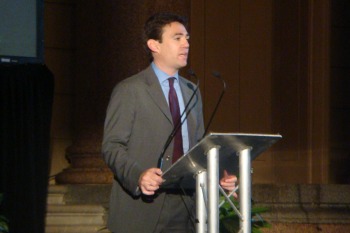 The Government's city-centric approach to the Northern Powerhouse needs to be adapted to allow all communities in the North to shape the future of devolution, new report argues.
The report Putting the People in the Powerhouse, produced in association with IPPR North, sets out five pillars of change that were agreed upon at last July's People's Powerhouse event held in Doncaster.
These were: a more inclusive North where diverse voices and strengths are represented; a good economy that works for more people; devolution that genuinely includes local people; a focus on the value of all our places; and more collaboration, sharing and learning together.
The report argues that the Northern Powerhouse agenda should focus on more than just the major cities and big infrastructure projects. It also urges policy makers to ensure the benefits of economic growth are felt by everyone.
Tracy Fishwick, project director and one of the founder members of the People's Powerhouse movement, said: 'I think with the People's Powerhouse event in Doncaster earlier this year and now the publication of this report we are really starting to change the conversation around the Northern Powerhouse.
'We're not saying transport and infrastructure aren't important. But we are saying that economic growth doesn't always trickle down and benefit everyone. We need a Powerhouse for all the North – not just the big cities, and one that improves life chances for people furthest from the labour market.
'As Andy Burnham said at our Doncaster event – it's time to open the doors to the Powerhouse and let the people in.'