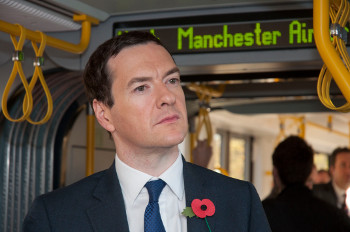 George Osborne is to chair a new independent partnership which will bring together business and civic leaders to maintain the momentum of the Northern Powerhouse.
The not-for-profit Northern Powerhouse Partnership - launched today - will be a focus for co-ordination with key stakeholders in the North and comes amid concerns the PM has not always been committed to the powerhouse idea.
Speaking to the Today programme this morning, Osborne accused Theresa May of having a 'wobble' over the concept of the Northern Powerhouse when she first became Prime Minister.
The former chancellor insists, however, 'The Northern Powerhouse is here to stay.'
A privately-funded initiative, the partnership will commission specialist research and work collaboratively with other organisations to provide a pan-Northern perspective.
Osborne first outlined the Northern Powerhouse concept in 2014. The aim was to bridge the north-south divide by rebalancing the UK economy and encouraging investment in areas outside of the South East.
Politically, this has involved moves to devolve powers from Whitehall to combined authorities, and the creation of elected metro mayors.
'When I launched the idea of the Northern Powerhouse I said I would work tirelessly with anyone and everyone to make it a reality,' George Osborne said.
'But even I have been taken aback by the huge support it's attracted, across political parties, businesses and communities.
'In the space of just two years, we've created powerful new mayors, committed to huge new transport and science projects, and attracted investment from around the world.'
'There's a real excitement now in the north about what we can achieve if we work together. I don't want us to lose that,' he continued.
'That's why I'm so pleased major businesses, civic leaders and others have worked with me to create this new Northern Powerhouse Partnership. I'm also glad that the government has given its support.
'Chairing this new Partnership will now be a major focus of my political energies. The Northern Powerhouse is here to stay.'