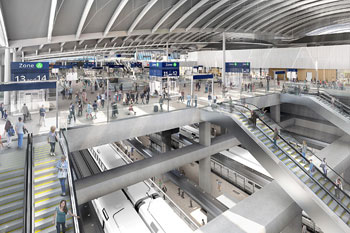 A House of Lords committee has called on ministers to rethink HS2 after finding evidence that the costs of the high speed rail link 'appear to be out of control'.
The Lords Economic Affairs Committee said the Government had failed to consider whether the Northern Powerhouse Rail (NPR) package of mainly east-west infrastructure improvements was a better investment than HS2.
It recommended that the second, northern section of HS2 should be combined with NPR and treated as one programme, allowing for investment to be prioritised where it is most needed, with funding for NPR ringfenced and brought forward where possible.
The Lords also called for a new appraisal of the business case for HS2 to be published urgently, as well as analysis of the possible cost savings from both lowering the railway's maximum operating speed and terminating it at Old Oak Common in West London, an option that they recommended.
The committee pointed out that HS2 is being designed to operate initially at 360 kilometres per hour, 'faster than any other train in the world'.
Chairman Lord Forsyth of Drumlean said: 'As the Committee suggested in its 2015 report, rail infrastructure in the North should be the Government's priority for investment, rather than improving north-south links, which are already good.
'The North is being short-changed by the Government's present plans, especially as construction on HS2 is starting in the south. Any overcrowding relief from HS2 will mainly benefit London commuters.'
He added: 'The costs of HS2 do not appear to be under control. It is surprising therefore that the Government has not carried out a proper assessment of proposals to reduce the cost of HS2 — such as lowering the speed of the railway or terminating in west London rather than Euston — which the Committee recommended in 2015. A new appraisal of the project is required.
'If costs overrun on the first phase of the project, there could be insufficient funding for the rest of the new railway. The northern sections of HS2 must not be sacrificed to make up for overspending on the railway's southern sections.'
An spokesperson for HS2 Ltd said: 'We thank the committee for its interest in Britain's new high speed (sic) and will consider their recommendations as the project progresses.
'As stated in the report, HS2 is fundamental to the delivery of Northern Powerhouse Rail. It is also vital to the Midlands Rail Hub, and will transform rail journeys across the Midlands and North, giving passengers thousands of extra seats every day, and taking freight of the roads. As regional leaders across the Midlands and North have repeatedly said, it's not a case of either or, it's both.'
Henri Murison, Northern Powerhouse Partnership director said: 'Northern businesses and leading civic leaders and mayors agree we need both HS2 and Northern Powerhouse Rail.
'It is vital for the Northern Powerhouse, and cancelling either project would be a betrayal to the cause of rebalancing our country.'
This article first appeared on Transport Network