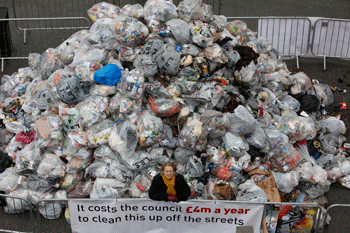 Packaging manufacturers are not doing enough to stop producing non-recyclable packaging or to contribute to the costs of disposal, council chiefs say.
The latest figures show 525,000 tonnes of household recycling collected was rejected at the point of sorting in 2019/20.
Each tonne of waste collected from a household recycling bin that can't be recycled attracts an extra cost of around £93 to dispose of through an energy from waste facility. This equates to over £48m per year in additional costs.
The Local Government Association (LGA) is calling for manufacturers of non-recyclable packaging to front the costs associated with this sorting and disposal.
'Households have made a real shift over the past decade to ensure they are recycling as much as possible and councils work hard to share information on what can and can't be recycled,' said Cllr David Renard, environment spokesperson for the LGA.
'However, the manufacturers of plastic packaging products are still continuing to create and sell packaging that cannot be recycled and will be put in the recycling bin by people in good faith. The burden then falls on councils to not only collect it and dispose of it, but to pay the extra cost of disposing of it.'