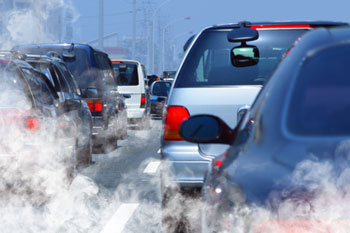 New petrol and diesel cars are set to be banned from 2040 as part of a new air quality plan that now includes a consultation on a 'targeted' diesel scrappage scheme.
Under a High Court ruling last year, which ruled the Government's existing plan to tackle air pollution to be illegal, ministers were required to publish a new plan by the end of this month.
A draft plan, which ministers were forced to publish before the General Election, was widely criticised for putting too much emphasis on local authorities to decide what action to take.
The final plan will similarly allow councils to bring in charging clean air zones by 2020 as a last resort but will urge them to try other measures first, such as retrofitting the vehicles, changing road layouts and removing speed humps.
It has also been reported that councils will be given £255m to assist them, including reprogramming traffic lights.
A Government spokesman said: 'Poor air quality is the biggest environmental risk to public health in the UK and this government is determined to take strong action in the shortest time possible.
'That is why we are providing councils with new funding to accelerate development of local plans, as part of an ambitious £3bn programme to clean up dirty air around our roads.'
Ministers are said to have identified 81 major roads in 17 towns and cities where urgent action is required because they are in breach of EU regulations on nitrogen oxide pollution, which mainly comes from road transport.
AA spokesman Jack Cousens said the organisation was pleased to see a scrappage scheme floated.
He said: 'The ambition to stop the sale of new petrol and diesel cars by 2040 is a step in the right direction. But there are plenty of factors that need to be addressed along the way.
'Eight out of 10 drivers say they want clean air, but they are sceptical that, should Clean Air Zones be implemented in cities across the UK, they would be introduced fairly as car drivers are not the only source of air pollution.
'Clean Air Zones should be the port of last resort, rather than the position of first response.'
Responding to the report, Cllr Martin Tett, Local Government Association environment spokesman, said: 'Councils want to switch their focus from simply monitoring air quality to improving air quality.
'It is right that the Government's plan recognises the vital role councils have to play in achieving this and we are also pleased it recognises our call for extra funding for local authorities to tackle air quality.
'Councils now need to see more details to make sure these plans are as effective as possible.'
'Councils' ability to understand the causes behind air quality issues in their areas is unique, because it is rooted in their unique understanding of their communities,' Cllr Tett continued.
'That is why it is important that councils will have the flexibility to deliver their own plans to improve air quality in their areas, particularly with regard to clean air zones as well as expanded road and traffic measures. We have been calling for this for some time.
'We also continue to call on government to introduce a national diesel scrappage scheme to get more polluting vehicles off the road. This immediate intervention could help increase the uptake of lower emission vehicles.'