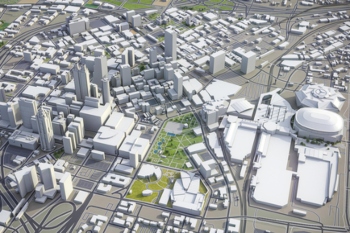 One of the clear take-outs from the new Levelling-Up and Regeneration Bill wasn't just the importance of design codes, but the role of local authorities in ensuring that every area has one.
National planning policy has supported the use of design codes since 2006. Fifteen years on, the 2020 Place Alliance Housing Audit confirmed their benefits in practice, finding that they are "the most effective means to positively influence design quality."
But while creating a design code can seem a complicated process, especially for under-resourced teams facing a number of pressures, there are some clear steps that can create robust process and help get a good code in place.
1. Use the templates
Both the National Model Design Code and the National Design Guide are in place to help create codes that are specific to each area without reinventing the wheel. The National Design Guide's 10 characteristics can also be prioritised to reflect local circumstances and then create a structure for the code, ensuring that each one is specific to its own place.
2. Structure your process
Use the three-stage coding process as the basis for preparing design codes, as set out in the National Model Design Code. It begins with analysis –scoping and then baseline, followed by vision, followed by coding – general codes, area-type or area-specific codes, with community consultation as a thread that runs through all of these stages.
3. Start with the place and its context
Both a code and the vision for it should start from a good understanding of a place and its context. The wider picture can have a significant influence on a code, ranging from identifying opportunities for improving connectivity or knitting neighbourhoods together, down to typical architectural details, planting, or activities that may inspire future character.
4. A compelling placemaking vision
Design codes need to be underpinned by a vision for the future of an area. It may be a big vision for transforming a place, or a relatively small one for incremental change. Being clear about what the vision is will make it much easier to focus the coding and then to decide if it will deliver that vision.
For complex areas, the vision may need to include a masterplanning process to test capacity and demonstrate that the code is robust and deliverable.
The vision is a key tool for communicating that enables people to understand and to imagine a positive future for a place, so think carefully about what kind of vision is appropriate and how it is expressed – if there isn't a masterplan then don't present a vision that looks like a scheme.
5. Prioritise
Don't try to control or code for everything. Identify the priorities for the vision, code to set the key fixes and leave some flexibility for others to come in and to design. This also has the benefit of keeping the size of a code manageable, both to prepare it, and for its users, who are likely to include both professionals and members of the wider community.
6. Choose the right sort of code – area-type or area-specific
Design codes may relate to different scales, ranging from district-wide through what are called area-types, then specific sites, and down to individual plots.
Early on it's important to identify the code that needs creating. Is this an area-type? Or is it an area-specific code?
7. Be clear
Design codes are intended to be specific and precise. They are illustrated design requirements, so need images, including plans and 3D images, supported by text. Where elements are mandatory, they need to say so – using words like 'must' or 'will' – and if not, using words like 'should' or 'may' to convey the right level of prescription.
8. Make consultation engaging
Engagement should run through the coding process from analysis, to vision and then code. It may include local authority officers, members, stakeholders and the wider community.
Consultation platforms, exhibitions, virtual and in-person workshops, drop-ins and walkabouts all add their own dimension and there is real value in using a variety of methods, both digital and in person to reach a broad range of participants.
It's important to make consultation engaging. A mix of methods can help do this, for example, a walkabout where participants use mobile phones or tablets to capture their own images and feelings about a place.
Another way to make consultation relevant is to link the codes back to the engagement, highlighting how the code responds to what people have said.
9. Use it!
The earlier a code goes through the formal process of adoption and comes into use, the more it can become a positive tool that shapes emerging proposals, as well as a compliance tool for assessing schemes. Even before it's fully adopted, a well-prepared code can start to inform discussions around emerging proposals.
Many areas are already reviewing their current design guidance and evidence base, and commissioning their own characterisations and design codes to set an overview, keen to take the initiative. Even though the final Bill may be some way off, for many the process of design coding can start much sooner.
Jane Dann is director of Tibbalds Planning and Urban Design