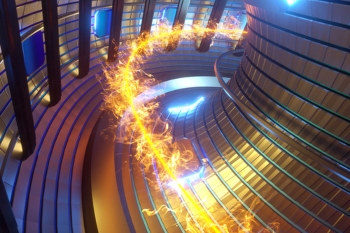 Five sites have been shortlisted to be the new location for the UK's prototype fusion energy plant.
The potential sites - Ardeer, Goole, Moorside, Ratcliffe-on-Soar and Severn Edge - have been chosen from a long-list of 15 sites to house the Spherical Tokamak for Energy Production (STEP).
The plant will create thousands of highly skilled jobs and attract other high-tech industries to its host region.
Paul Methven, STEP programme director at UKAEA, said: 'The shortlisting of sites is a significant step for the programme as it helps bring this challenging, long-term endeavour to life in the here and now. It also increases our focus as we push on with design and delivery of what we hope is the world's first fusion power plant prototype.
'Through the next phase of assessment, we look forward to working with the shortlisted sites and local communities to gain a more in-depth understanding of the socio-economic, commercial and technical conditions associated with each site, before we make our final recommendations to the secretary of state in 2022.'