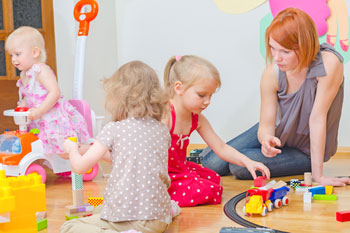 The Government has introduced a new funding system for nurseries, preschools and childminders in a bid to shore up its flagship 30-hour free childcare policy.
The current funding formula is based on how much a council has historically spent rather than how much it actually costs to meet local childcare needs. The Government claims the new system will be fairer.
The new formula—opened to consultation today—is based on three factors: a 'universal base rate' of funding for each child, an 'additional needs factor', and the cost of providing childcare in different parts of the country.
Taking these factors into consideration, the Government argues, would ensure every local area is funded fairly for the core costs of delivering childcare, while providing enough flexibility to cater for additional needs.
Launching the consultation, education secretary Justine Greening said: 'These changes will transform the way we fund early years' education, creating a fairer system that better provides the affordable, high-quality childcare families deserve.'
Whitehall is committed to doubling the free entitlement to childcare to 30 hours a week for working parents, but is has come under fire in the past for not providing sufficient levels of funding to deliver.
Last May, 30 early years providers in York pulled out of a pilot scheme for the policy because of an 'unacceptably low rate' of funding. They argued the funding of an average £3.66 per hour, announced earlier in the month, was less than the Government's promise of a £4.88 average rate.