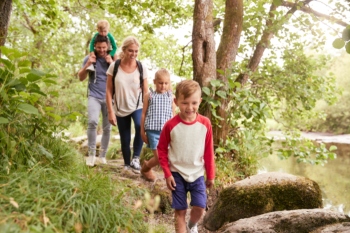 More than 800 families facing difficult times will be given a free holiday or trip under a new Government fund.
The £600,000 'England for Everyone' fund will offer families struggling financially, or facing illness, isolation or bereavement with a weekend break.
Social workers and teachers will be able to refer families to the Family Holiday Charity to receive holiday vouchers to help cover transport, accommodation and food.
Research by the charity shows 85% of families benefiting from a short break reported their children went to school more regularly afterwards.
Tourism minister Nigel Huddleston said: 'Holidays provide a vital opportunity for people to reset, spend quality time together and improve their mental wellbeing. But for many families taking a break can be impossible.
'Following the challenges of the COVID-19 pandemic, we are helping families facing particularly tough times to have a much-needed break while supporting our brilliant tourism and hospitality sector.'