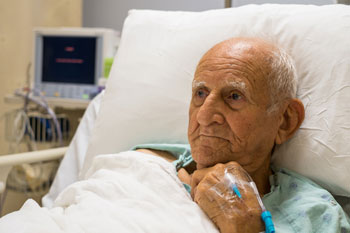 A fund should be created to help fast-track 'bed blocking' patients from hospitals to residential care facilities, a new report argues.
The NHS is under a lot of strain partly because of a significant increase in frail, elderly people who don't need acute medical care, but who also cannot be discharged to a suitable caring facility—a phenomenon termed 'bed blocking'.
The think tank ResPublica has proposed the creation of a £3bn 'Fast Track Discharge Fund' in order to tackle this.
The fund, outlined in the report Care after Cure, would extend over the next five years and would be funded out of existing NHS budgets.
It could be used, the report's authors suggest, to pay for residential care beds to accommodate patients with no medical need to be in hospital, and invest in skills, training and facilities within the residential care sector.
ResPublica argues this money would otherwise be spent by the NHS on looking after patients who have no reason to be in hospital.
Dr Sarah Wollaston MP, chair of the Health Select Committee, said: 'This report from ResPublica provides compelling evidence that social care cannot be seen in isolation from the NHS.
'There is an urgent need to improve access to social care and to address the delayed transfers of care and this can no longer be side-lined by policy makers.'
For more on this, visit The MJ (£).