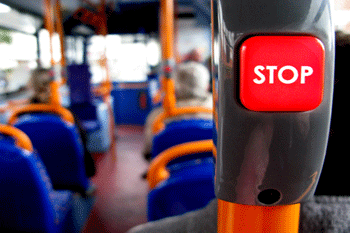 The number of people using buses in England fell again in the last financial year in the face of real-terms fare increases and cuts to local routes.
The latest statistics from the Department for Transport (DfT) show that the number of local bus passenger journeys in England fell 1.4% to 4.38 billion in the year ending March 2018, compared with 2016/17.
The figure for the year ending March 2017 of 4.44 billion passenger journeys itself represented a 1.5% fall on the previous year, according to DfT statistics published in December.
In the year to March 2018, local bus fares increased by 2.8%, which officials pointed out was faster than the all items Consumer Prices Index rate of inflation (2.5%).
Steve Chambers, public transport campaigner at Campaign for Better Transport, said: 'Today's figures show the continuing downward spiral of local buses continues. This is no surprise given the loss of thousands of routes and services across the country and the fact that bus fares are rising faster than other consumer items and far faster than wages.
'Behind these cold statistics lie serious impacts on people's lives. The reductions in services and increases in fares mean that people without cars are increasingly isolated and can't get access to jobs, training or public services like health and social care, while those with cars find themselves having to use them more and more to get around. Our annual Buses in Crisis report, due out next month, is expected to show even more routes lost due to local authority cuts.'
He added: 'Without a proper coach and bus investment strategy and funding to support it, we will witness the slow death of local buses.'
A longer version of this story first appeared on Transport Network