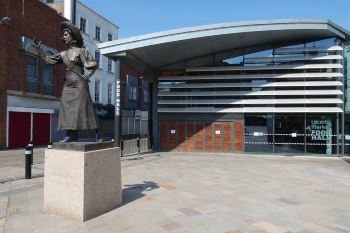 A new app to bring historic stories connected with Leicester Market to life has been launched.
The Picturing the Past app uses augmented reality to allow people to scan three information panels in Green Dragon Square.
Developed by Leicester City Council and MBD, the app will use audio and images to demonstrate the influence of the Romans on Leicester, a fatal shooting at a medieval pub, and the inspirational suffragette who's now commemorated with a statue in the square.
City Mayor Peter Soulsby said: 'Picturing the Past builds on the interest in local history that's been generated by our popular Story of Leicester heritage panels, which now highlight more than 175 historic sites in Leicester.
'By making these stories accessible to people via their smartphones, I hope we can encourage residents and visitors to discover more about the city's long and fascinating past.'