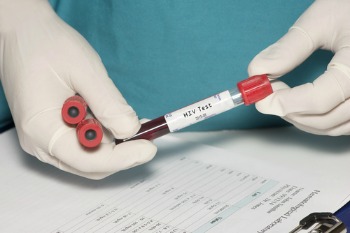 Figures show that new diagnoses of HIV in the UK have fallen by a third since 2015 and are now at their lowest levels since 2000.
The figures, published by Public Health England (PHE), reveal that the steepest falls have been among gay and bisexual men, where new diagnoses declined by 39% between 2015 and 2018.
During the same period, new diagnoses have also fallen by a quarter (24%) among people who acquired HIV through heterosexual contact.
However, almost half of people (43%) newly diagnosed with HIV in 2018 were at a late stage of infection.
Public health minister, Jo Churchill, said: 'I am delighted to see new figures released today which show we are well on our way to achieving our ambition of zero HIV transmissions in England by 2030, with HIV diagnoses at their lowest level since 2000.
'This decline in diagnoses is a result of our unwavering commitment to prevention which has led to more people getting tested, and has allowed people with HIV to benefit from effective treatment, stopping the virus from spreading further.'
Responding to the data, London Councils has highlighted the key contribution made by the capital's ground-breaking approach to HIV prevention.
Cllr Ray Puddifoot, London Councils' executive member for health & care, said: 'We're immensely proud of the contribution made by the boroughs' collaborative London HIV Prevention Programme and the Do It London campaign. By working efficiently and effectively together, boroughs ensure clear and consistent messages are communicated to Londoners about the importance of testing and protection.'