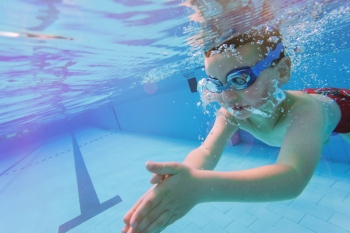 Almost 2,000 public swimming pools could be lost by the end of the decade unless ageing facilities are replaced or refurbished, a report has warned today.
Swim England said that many pools constructed in the 1960s and 1970s are coming to the end of their lifespan, with not enough new facilities being built to replace them.
The report - A Decade of Decline: The Future of Swimming Pools in England - found the number of pools will fall by 40% by the end of the decade based on current trends.
It also found a quarter of local authorities in England have a deficit of at least one average-sized swimming pool.
Jane Nickerson, Swim England chief executive, said: 'Without adequate investment into the new pools this country needs, we are forecasting a huge decline in the available water space by the end of the decade, threatening the future of our sports, leaving millions shut out of the activities they love and widening health inequities.'
Swim England is calling on the Government to invest £1bn into public leisure facilities to pay for pools to be refurbished or for new ones to be built. It wants some of this funding to be made available so communities can apply for grants to get design and feasibility studies completed.
It is also calling on local authorities to conduct an analysis of its pool stock.
Chairman of the LGA's Culture, Tourism and Sport Board Cllr Gerald Vernon-Jackson said: 'Sixty per cent of swimming pools are past their expected lifespans or overdue refurbishment and account for up to 40% of some councils direct carbon emissions. Alongside high running costs and financial constraints exacerbated by the COVID-19 pandemic, there is a real risk that we will lose these vital community assets.'