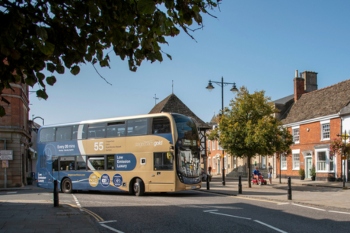 The new National Bus Strategy launched by the Prime Minister on 15 March is an opportunity to transform local bus services. For local authorities with transport responsibilities, however, it brings with it a host of new requirements and relatively little time in which to meet them.
One of the most significant of these is the Bus Service Improvement Plan which every local authority has to produce and which must be 'driven by what passengers and would-be passengers want in their area'.
These plans must be published by the end of October 2021, updated annually and reflected in the authority's Local Transport Plan. They need to be developed in collaboration with operators, community transport providers and, critically, the local community including residents and businesses, with a significant focus on driving improvements for passengers.
Within the Bus Service Improvement Plan, the DfT sets out six requirements including targets for passenger growth and satisfaction; plans for simplified and integrated ticketing; the safety and accessibility of bus stops and stations; access to schools, health, social care and employment; and taking into account the views of local people.
The final requirement is a Bus Passenger Charter setting out what passengers can expect from their services, particularly in terms of accessibility, punctuality, cleanliness, information and redress. The issue of redress is a vital component and to ensure standards are met, local authorities are also required to set up some form of Bus Advisory Board.
These responsibilities may seem onerous to local authorities, particularly given much of the knowledge and expertise associated with local transport officers has all but disappeared over the last decade.
But there are many options for engaging with local communities and passengers that are effective and offer value-for-money. There are also organisations like Bus Users which are already active in the field and can support local authorities, operators and community transport providers in meeting these requirements.
Running local events, consultations or surveys are great ways to find out, not only what people need and want from their bus services, but also what they think of existing services, including what works, what could be improved and what is missing. This approach has the added advantage of establishing a benchmark against which future improvements can be measured. Even with current restrictions on movement, video-conferencing technology makes it possible to run events and reach out to potentially wider audiences, at even less expense.
A huge amount of valuable passenger insight already exists and most organisations who hold this information would be more than willing to share it in the drive to improve services. Speaking as an approved Alternative Dispute Resolution Body for bus and coach services, we can vouch for this.
Bus services are a lifeline for communities boosting local economies, reducing congestion and pollution, and giving people access to life's opportunities. The new National Bus Strategy is a unique opportunity to make public transport viable and sustainable now and in the future.
This feature was provided by Bus Users
Photo: Peter Titmuss / Shutterstock.com