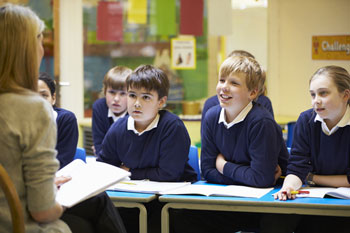 A new national funding formula for schools has been dismissed as inadequate by Labour and head teachers.
Education secretary Justine Greening told parliament schools would get an increase of 0.5% per pupil from the next school year and a 1% rise from 2019-20, confirming the £1.3bn increase announced in July.
Schools would also be set minimum funding levels including £3,500 per pupil at primary schools and a previously announced minimum of £4,800 per pupil in secondaries.
Cash will go directly to schools from 2020 rather than through a formula decided by local authorities.
Ms Greening told MPs: 'This is an historic reform. It means, for the first time, the resources that the Government is investing in our schools will be distributed according to a formula based on the individual needs and characteristics of every school in the country.'
Geoff Barton, general secretary of the Association of School and College Leaders, said: 'The additional £1.3bn announced by Justine Greening in July was a step in the right direction.
'But schools have already suffered huge cuts and the additional funding is nowhere near enough to prevent further cuts.'
Labour shadow education secretary Angela Rayner said: 'There is no new money for education at all, and this funding for schools is coming from other cuts to education budgets.
'Only months ago, ministers guaranteed that the healthy pupils fund would be protected – now it is being cut by over 75%, and the education secretary can't even tell us where else the axe will fall.'