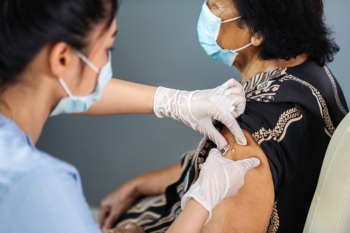 The Government has announced that those most vulnerable to COVID-19 may be offered a booster vaccination from September.
The announcement follows interim advice from the Joint Committee on Vaccination and Immunisation (JCVI). The JCVI recommends the measure as a means of prolonging the protection offered by the first two jabs ahead of winter and in the face of new variants.
'The phenomenal vaccine rollout has already saved tens of thousands of lives and prevented millions of infections, helping to wrestle back control of the pandemic and ease lockdown restrictions so we can return to normal as soon as possible,' said health and social care secretary, Sajid Javid.
'We welcome this interim advice, which will help us ensure we are ready in our preparations for autumn. We look forward to receiving the committee's final advice in due course.
'We need to learn to live with this virus. Our first COVID-19 vaccination programme is restoring freedom in this country, and our booster programme will protect this freedom. We are working with the NHS to make sure we can rapidly deliver this programme to maintain protection for people in the winter months.'
The final JCVI advice will be published before September and will take into account the latest epidemiological situation, additional scientific data from trials such as Cov-Boost, real-time surveillance of the effectiveness of the vaccines over time and emerging variants.
The JCVI's interim advice is that a third booster jab should be offered alongside the annual flu vaccination in two stages.
Stage one would cover:
· adults aged 16 years and over who are immunosuppressed
· those living in residential care homes for older adults
· all adults aged 70 years or over
· adults aged 16 years and over who are considered clinically extremely vulnerable · frontline health and social care workers
Stage two would cover:
· all adults aged 50 years and over
· all adults aged 16 to 49 years who are in an influenza or COVID-19 at-risk group as outlined in the Green Book
· adult household contacts of immunosuppressed individuals
Deputy chief medical officer for England, Professor Jonathan Van-Tam commented: 'Where the UK has reached so far on vaccination is truly fantastic. But we need to keep going and finish giving second doses to those remaining adults who have not had them; this is the best thing we can do prevent the disease from making a comeback which disrupts society later in the year.
'Being able to manage COVID-19 with fewer or no restrictions is now heavily dependent on the continued success of the vaccination programme. We want to be on the front foot for COVID-19 booster vaccination to keep the probability of loss of vaccine protection due to waning immunity or variants as low as possible. Especially over the coming autumn and winter.
'Fewer or no restrictions will mean that other respiratory viruses, particularly flu, will make a comeback and quite possibly be an additional problem this winter, so we will need to ensure protection against flu as well as maintaining protection against COVID-19.
'The announcement of interim advice from JCVI is good news. It shows that the vaccine experts are thinking carefully about how best to use vaccination to protect the most vulnerable and ensure everyone's lives can remain as normal as possible for the autumn and winter.'
Responding to the announcement, Cllr David Fothergill, chairman of the Local Government Association's (LGA) Community Wellbeing Board, said: 'Protecting our most vulnerable has been councils' number one priority throughout the pandemic and it is important that measures to maintain this protection are in place as we head into autumn and winter.
'Councils continue to work shoulder-to-shoulder with our NHS colleagues on the continued successful rollout of the vaccination programme, using their unrivalled local knowledge and connections with their communities to encourage as many people as possible to get themselves vaccinated.
'Any decision on offering a booster jab later this year, to protect our most vulnerable from variants and flu ahead of winter, will be supported by councils and their directors of public health in our collective national effort to end the pandemic.'