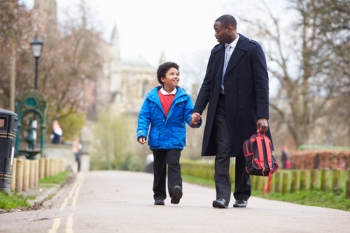 Nearly half of children in the UK are worried about air pollution near their school - up from 39% in 2018 - a new survey has revealed.
A survey by Sustrans found almost three fifths (57%) of pupils said there were too many cars around their school, with 40% saying more people walking, cycling or scooting to school was the best way to bring down levels of air pollution.
The survey found 71% of pupils are worried about climate change, with 62% thinking adults aren't doing enough to tackle the problem.
Xavier Brice, CEO of Sustrans, said: 'The results of this survey highlight the responsibility we have to create a healthier, greener and fairer society for the generation coming after us.
'With a large number of cars on the road during the morning peak doing the school run, swapping everyday journeys such as how we travel to and from school from private cars to active modes of travel can help cut dangerous levels of air pollution in our towns and cities which have a detrimental impact on the environment.'