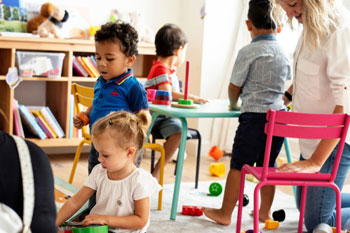 The Government has been accused of knowingly under-funding local authorities on 'free childcare' places by the Early Years Alliance.
The educational charity said that data obtained through freedom of information requests shows that the Government only paid local authorities two-thirds of what it estimated they would need to fully fund the scheme.
The data shows civil servants estimated the cost of a government-funded early years place for three- and four-year-olds would cost an average of £7.49 per hour by 2020/21. However, the average rate paid to local authorities is just £4.89.
The Early Years Spending Review Scenarios document obtained from the Department for Education also shows that ministers were aware that under-investment would lead to increased prices for families, with providers forced to use maximum statutory adult-to-child ratios.
Neil Leitch, chief executive of the Alliance, said: 'For years, the early years sector has warned that the so-called 'free entitlement' offer is anything but free, in the face of repeated government claims that the policy is adequately funded. These documents, which they spent more than two years trying to hide, prove otherwise.'
'For so long, the government has tried to deflect the blame for rising childcare costs. But these documents prove, in black and white, that it knew that the introduction of the 30-hours policy, along with an insufficient level of investment, would result in higher costs for parents of younger children.'
A Department for Education spokesperson said: 'Through our early years funding formula, which we introduced after consultation with the sector, councils must pass on the vast majority of the funding they receive for the three and four-year-old entitlements.
'The number of childcare places available for parents in England has remained broadly stable since 2015, and we are not aware of any significant issues for parents in accessing free places – we work closely with councils to ensure this remains the case.'