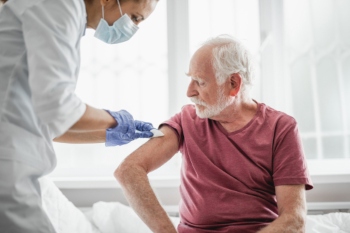 More than 30 million people in England will be offered a free flu vaccination in a bid to ease the pressure on the NHS this winter.
The free vaccine will be made available for people over 50, all school year groups up to year 7, pregnant women, and people and their households on the shielded patient list.
Chief medical officer, Professor Chris Whitty said: 'This winter more than ever, with COVID-19 still circulating, we need to help reduce all avoidable risks. Vaccinating more people will help reduce flu transmission and stop people becoming ill.
The move has been welcomed by the Local Government Association (LGA) who urged the Government to go further and offer a free flue jab to everyone else.
Cllr Paulette Hamilton, vice chair of the LGA's Community Wellbeing Board, said: 'Extending the free winter flu jab to as many people as possible is essential if we are to tackle two potentially deadly viruses head-on and prevent one seasonable and predictable virus creating the conditions for a second, more serious and unpredictable deadly second wave of COVID-19.
'We are pleased the Government has widened the criteria for a free jab and urge it to consider whether a free flu jab can also be offered to everyone else in the country this year.'