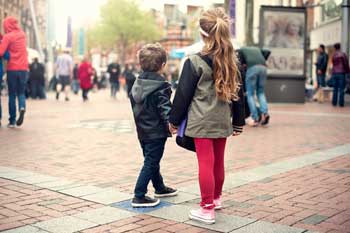 Over a million children of key workers are currently living in poverty, the TUC has revealed.
The research, produced by Landman Economics, found that in some regions more than a quarter of children in key worker households are living in poverty.
Key worker families in the North East have the highest rate of child poverty (29%), followed by London (27%), the West Midlands (25%) and Yorkshire and the Humber (25%).
According to the TUC, the main reasons for key worker family poverty are low pay and insecure hours – factors that often coincide in occupations such as care workers, delivery drivers or supermarket staff.
High housing costs, insufficient support through Universal Credit, and the cap on pay rises for key workers in the public sector were also cited as causes for key worker poverty.
'Every key worker deserves a decent standard of living for their family. But too often their hard work is not paying off like it should. And they struggle to keep up with the basic costs of family life,' said TUC general secretary Frances O'Grady.
'The prime minister has promised to 'build back fairer'. He should start with our key workers. They put themselves in harm's way to keep the country going through the pandemic. Now, we must be there for them too.
'This isn't just about doing right thing by key workers. If we put more money in the pockets of working families, their spending will help our businesses and high streets recover. It's the fuel in the tank that our economy needs.'
Mark Russell, chief executive of The Children's Society, described the TUC's findings as 'truly shocking'.
'Our own research has shown that many families in these key worker and zero hours' contract roles are often migrant families with no recourse to public funds (NRPF) meaning they haven't been able to access many mainstream benefits during the pandemic when they have experienced job losses or reduced income,' he said.
'It's essential that these families can access the support they need as we recover from COVID to ensure that no children are left behind. This is why it is critical that the NRPF condition is not applied to families with children under 18.'
Mr Russell added: 'For families that can access support through the social security system, we also urge the Government to scrap the two-child limit and remove the household benefit cap – policies which are currently applied regardless of household need. If these were to be removed it would be a big step forward in helping struggling key worker families as we recover from the pandemic.'
The Local Government Association (LGA) today urged the Government to put children at the heart of the post-pandemic recovery.