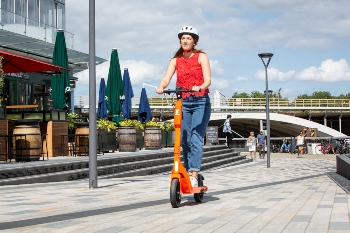 Following the legalisation of e-scooters in the UK earlier this month, local authorities are getting to grips with how shared micro-mobility such as e-scooters can help their area bounce back from the COVID-19 pandemic. As the general manager for innovation and growth at City of Darwin Council in Australia, I have been part of the team responsible for setting up the shared e-scooter service in Darwin.
Even though Darwin is in a different hemisphere there are many similarities with the UK in terms of culture, language and the e-scooter regulatory framework. Darwin's e-scooter service has been running for over six months now and we are finding all kinds of benefits as the city emerges from lockdown that might be useful for UK councils as they decide whether an e-scooter trial is right for them.
E-scooters essential to city's COVID-19 'bounce back' strategy
As has been the case in cities around the world, many businesses in Darwin have taken a significant financial hit amid the COVID-19 outbreak. This is particularly true for our tourism and hospitality sector, with many hotels and restaurants struggling. As a city that relies heavily on out of town visitors and tourism, it has been essential for us to find ways to rebuild and get these businesses back up and running and encourage both locals and visitors to show their support.
As one of the first cities in Australia to come out of lockdown, the innovation & growth team at City of Darwin Council has been focused on ways to encourage people to get people moving again in a safe way so they can boost the local economy, and our shared e-scooter scheme, provided in partnership with Neuron Mobility, has played a crucial role in our strategy. Since implementing the e-scooter scheme we've seen many benefits, from helping locals connect through a safe, efficient and fun service, to extending the range for pedestrians so they can visit more local businesses. The food and beverage industry of Darwin has experienced this first-hand, with e-scooters making their venues more accessible and bringing in more foot traffic. In fact, one particularly popular restaurant on the city's waterfront has become the number one drop off location in Darwin.
For us this means e-scooters can play a key role in assisting local economic recovery following the COVID-19 crisis. On e-scooters tourists and locals alike can see more, do more and spend more, giving a real boost to our local businesses.
Ease of exploration the key to success
Darwin is a modest city of 130,000 people and we don't have the luxury of a 'bells and whistles' public transport system - so it's common for people to jump in the car when they need to make a quick journey of around a kilometre. E-scooters have become an alternative solution for residents, who can now take a quick ride to where they need to be, without clogging up the roads.
Data from Neuron shows the average length of trips is 1.8 kilometres, with around 40% of rides taken as part of the morning commute and lunchtime rides, and 40% as evening leisure rides. Riders have reported that they use e-scooters as a means to explore the city, particularly in the evening. For locals, e-scooters represent an opportunity to see parts of the city they wouldn't usually visit, creating a greater appreciation for their local area, which goes a long way to reinforce the strong community culture that we need to bounce back stronger.
There has been a strong uptake of e-scooters among all age groups, including many who are above 60 years old but are still safely enjoying the rides. 15% of all rides have been on the recently launched Group Rides feature, which allows multiple e-scooters to be unlocked with one account, so friends and family can ride together.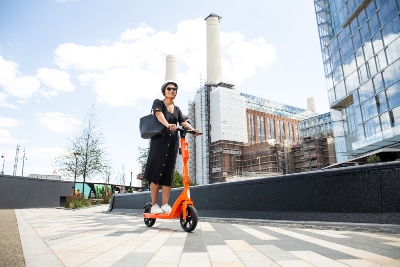 Looking to the future for e-scooters
Now that we can see the success of the e-scooters and the role they are playing in helping our city recover, I can't imagine a future without them. Before we launched e-scooters there were some sceptics, however the scheme has been so successful that there would now be an uproar if they were removed from the streets.
We started off with 250 e-scooter but increased that to 350, initially they were servicing a 5km stretch covering mainly the city centre and waterfront areas. However earlier this month, and after strong community support, we expanded the riding area to cover more popular areas. It's important for us to keep evaluating and to keep expand the scheme into new areas, so we can have people visiting and supporting more local businesses.
The e-scooter program has effectively dispersed last mile transport and replaced short car trips in the city. Our partnership with Neuron has also given us access to a wealth of data, so we can better understand how people move around. This allows us to plan the city effectively for the future of post-COVID travel.
The City of Darwin is constantly looking for ways to innovate for the future, we chose Neuron because they have a similar ethos, they understand that no two towns or cities are the same and they have adapted to meet our needs, they also have an unrivalled focus on safety and that is very important to us.
The City of Darwin is proud of its e-scooter programme. We hope that it can serve as an interesting example for similar sized towns and cities in the UK that are considering micromobility as a potential solution for future travel.
Joshua Sattler is general manager, innovation growth and development services at City of Darwin