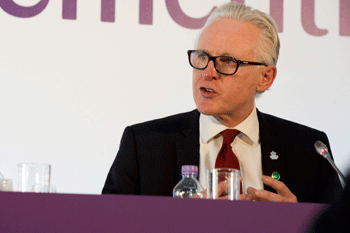 The prime minister's pledge to overhaul mental health services has been branded a 'puny response to a burning injustice' by former health minister Norman Lamb.
In a speech today, Theresa May announced new measures to improve mental health care including every secondary school to be offered mental health first aid training, a review of children's mental health services across the country, investment in digital mental health services and a review of the mental health debt form.
However, liberal democrat shadow health secretary Mr Lamb, said the announcement was an attempt to 'cover up' the government's failure to invest in children's mental health services.
'Much of the additional £1.4bn of funding secured for child mental health care is being diverted to prop up other services,' he said. 'This amounts to theft of money intended to improve the lives of vulnerable young people.
'Sadly, mental health is often the first area which loses out when budgets are tight. Unless the government addresses the funding crisis facing the NHS and ensures extra investment gets through to where it's needed, we will not see the improvements in mental health care that are so badly needed.'
Labour also said the Government had failed to ensure mental health is given the same priority as physical health.
Barbara Keeley, shadow minister for mental health, said: 'The truth is that funding for mental health fell by over 8% over the last parliament, there are now 6,600 fewer mental health nurses compared to 2010 and thousands of patients in crisis have to travel out of area for a psychiatric bed. Much of the extra funding meant for children's mental health services has actually been used for other NHS services.
'The Government has failed to provide sufficient funding for mental health services, and people are being let down as a result.'
However, Mrs May said the new measures would help tackle the stigma associated with mental health. She said: 'What I am announcing are the first steps in our plan to transform the way we deal with mental illness in this country at every stage of a person's life: not in our hospitals, but in our classrooms, at work and in our communities.
'This starts with ensuring that children and young people get the help and support they need and deserve – because we know that mental illness too often starts in childhood and that when left untreated, can blight lives, and become entrenched.'