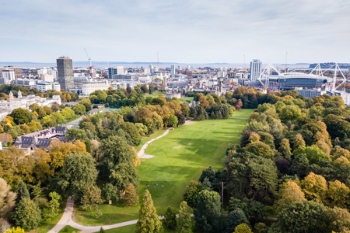 Green space provision in and around housing developments has dramatically declined over the last century with negative consequences for the mental health of residents, new research has found.
New analysis by the New Economics Foundation (NEF) has revealed that on average the total amount of public greenspace within developments has reduced by a third over the last century from 13% of the space to just 9%.
There has been a 40% reduction in the average size of the nearest park for properties built in the last decade compared to those built 80 years earlier, with a 30% decrease since the developments of the 1990s, the NEF found.
Ahead of Mental Health Awareness Week, Wildlife and Countryside Link and the NEF, are highlighting the worrying implications this trend is likely to have for the mental and physical wellbeing of people in newer neighbourhoods.
Spending time in natural spaces is linked to improved life satisfaction, reduced anxiety and increased happiness, with 70% of UK adults saying that being close to nature improves their mood.
'For too long our heads have been turned away as poor planning and austerity politics have chipped away at people's connection with nature. These new numbers shine a light on the death-by-a-thousand-cuts of one of our greatest national assets,' said Dr Alex Chapman, senior researcher at the New Economics Foundation.
'As long as we remain wedded to our short-term profit-driven planning model, private developers will continue to cut corners on the size and quality of green space provision. High quality, biodiverse, urban nature is already becoming a luxury enjoyed by the wealthy and, without action, could become a thing of the past. Local authorities urgently need the funding and powers to protect and enhance community access to nature.'
Those living in post-2000 dominated developments are 30% more likely to report that they do not 'feel part of nature', and are 5% less likely to visit nature. NEF's analysis suggests the decline in green space provision seen post-2000 can now be associated with at least nine million fewer trips to green space per year.
Mark Rowland, chief executive of the Mental Health Foundation, said: 'The New Economics Foundation findings that fewer and fewer housing developments are prioritising the creation of natural spaces is a huge step backwards in creating pro-social environments that nourish people's mental health. Research clearly shows that green spaces are good for us. They lift us emotionally and also foster the human connections that are so vital for our mental health.
'As we will highlight next week during Mental Health Awareness Week, natural spaces are a powerful antidote to loneliness, which can be toxic to our mental health. Planning policy must reflect this to actively create more and better green and blue spaces in our communities that will both benefit the natural world, and help prevent mental health problems.'