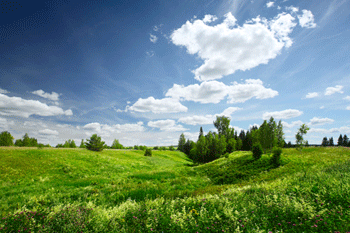 Sadiq Khan has pledged to protect 'the lungs of the capital' as he sets out new plans to strengthen safeguards for the Green Belt.
The mayor of London has published his draft London Plan – the overarching strategic planning framework for the city – which aims to strengthen safeguards to prevent harmful development on green land both within and surrounding the capital.
Mr Khan says a planning application which involves building on the Green Belt will be refused if it does not meet 'strict rules' on what is appropriate, such as replacing existing buildings with new ones of a similar scale or the provision of new agricultural buildings.
London's Green Belt makes up almost a quarter of the capital's land area. Under current Green Belt regulations, developers are only allowed to build on the land only in 'very special circumstances.'
However, according to the London Green Belt Council (LGBC), the number of sites facing development on London's green belt has more than doubled since last year from 203 to 443.
The mayor argues the Green Belt benefits London's air quality, as well as helping reduce the risk and impact of flooding and providing habitats for the capital's wildlife.
'London needs 66,000 new homes every year to meet its increasing need and put right years of underinvestment,' said Mr Khan.
'But development must not be done at any cost: the Green Belt is the lungs of the capital and must be protected.
'I firmly believe we can build the homes Londoners need without sacrificing the Green Belt. This will mean more development on brownfield land, town centres becoming denser, incorporating more green infrastructure in our streets and developments and being more creative with how we develop the hundreds of small sites across the capital.
'Since I took office I have refused a number of developments which would have caused harm to the Green Belt. With my new London Plan I'm sending a clear message to developers that building on or near the Green Belt must respect and protect this vital natural resource.'
Responding to the mayor's announcement, Conservative London Assembly member Andrew Boff said it was 'outlandish at best'.
'Everything he has "announced" already exists in the current London Plan and national planning policy. "Green grids" for example have existed for ten years.
'The protections the mayor is lauding were put in place by the Government and his own predecessor. If he's as determined to protect Green Belt land as he claims, he's yet to contribute anything to the fight.
'I just wish he'd stop announcing old stuff as if it were new. He'll be telling us next that sliced bread was his idea.'
For more on the Green Belt see our feature, 'Do we REALLY need the Green Belt?'