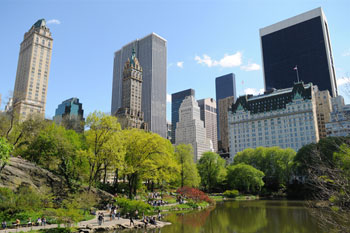 England's 'unloved spaces' will be transformed into Manhattan-style 'pocket parks', according to new proposals.
£1.5m will be made available for community groups and local authorities to convert up to 100 underused urban sites into green spaces that, in the words of communities secretary Greg Clark, will provide a 'chance to relax and unwind from the rigours of modern life.'
'Pocket parks' were first developed in New York in the 1960s to create natural havens that would break up the monotony of steel and concrete skyscrapers.
The Government hopes the proposals will lead to an increase in wildlife habitats, transform run-down gardens, and provide green oases in bustling neighbourhoods.
Communities secretary Greg Clark said: 'Today's £1.5m funding for pocket parks will help transform scores of unloved spaces across our country, providing communities with parks that will be enjoyed for years to come.'
The scheme has already been trialled in London with St Luke's Wildlife Garden in Hackney and Dinosaur Play Park in Haringey.