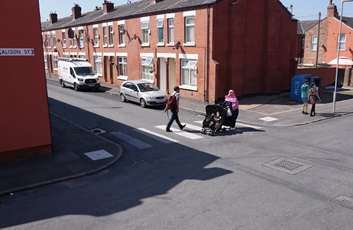 Greater Manchester's mayor and transport commissioner have written to the transport secretary seeking permission for a mass trial of zebra markings at side roads after new evidence showed that they lead to a 65% increase in drivers giving way.
Andy Burnham and Chris Boardman are asking for regulations to be amended to allow 'the British-invented' zebra crossing to be authorised for use on Greater Manchester's side roads.
A report commissioned by Greater Manchester Combined Authority (GMCA) and conducted by industry experts TRL showed that vehicles giving way to people on foot went up from four in 10 to seven in 10 when the zebra markings were in place.
The two-year study consisted of extensive consultation and off-road trials and concluded in 2021 with two on-street trials conducted by Tameside Council. The report also concluded that there is universal understanding, amongst all road users, of what zebra markings mean when used on side roads.
Mr Burnham, said: 'In Greater Manchester we're determined to shift the focus to become a city-region where walking, cycling and public transport comes first. That includes ensuring that people feel safe walking to school, the shops and work.
'The latest data we have has shown that 55 people in Greater Manchester alone have been killed at side road junctions on minor roads over a three-year period. This is shocking and needs urgent action.'
Mr Boardman said: 'The Department for Transport has been very supportive of this study and we hope the compelling evidence will give them the confidence to give us the go-ahead for large-scale, long-term trials of these across our city region, to help make walking the overwhelming choice for everyday trips to school, work and the shops.
'Not only are side road zebras shown to be effective, they are incredibly practical and cheap to both install and maintain. In fact, they are already authorised and shown to work well on cycle paths. As they do not use Belisha Beacons or zigzags, there is no digging up of streets or power supplies required, so each one can be installed quickly for around £1,000 compared to £40,000 for a traditional zebra crossing.'
Transport for Greater Manchester said side road zebras would primarily be used in low traffic, predominantly residential areas and that, if authorised by the Government, Greater Manchester could create hundreds of crossings within 12 months.
Highway Code Rule 170 states that drivers and cyclists should give way to pedestrians who have started to cross a road in which they are turning.
A forthcoming change to the code will require drivers also to give way to pedestrians waiting to cross a side road, although the exact wording remains to be seen.