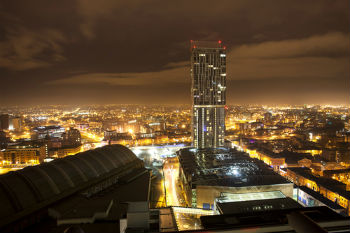 Manchester City Council and the owners of City Football Club have agreed a £1bn partnership to deliver more than 6,000 new homes.
The council has announced a 10-year partnership with City's Middle East owners, the Abu Dhabi United Group. The first phase will see more than 830 new homes and significant employment opportunities delivered in Ancoats and New Islington.
Sir Richard Leese, leader of Manchester City Council, said: 'The planned transformation of the eastern edge of the City Centre is the single biggest residential investment Manchester has seen for a generation. Building thousands of quality new homes will be a fundamental part of our growth story and will deliver significant socioeconomic impact. We look forward to working with Abu Dhabi United Group to create a world class exemplar of regeneration.'
The multi phased Manchester Life initiative expects investment of up to £1bn over the next ten years, expanding the residential market in the eastern area of the city and providing a platform for the delivery of more than 6,000 new homes.
Board director of the Abu Dhabi United Group, Marty Edelman, said the commercial partnership was a 'logical decision' given the group's long-term commitment to Manchester. 'We are effectively investing in the opportunities and positive circumstances created by our joint investments to date,' he said.