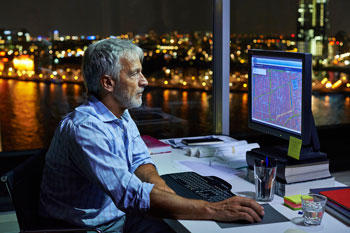 In recent years we have seen a marked increase in the use of LED technology for street lighting and other public lighting projects and this trend continues. LEDs deliver improved energy efficiency, better quality lighting and have reduced ownership costs, so the return on investment calculations are generally very favourable.
What we have been seeing is the first stage in a more profound evolution in the lighting of public spaces and buildings. It is an evolution that has the potential to transform the ways we light towns and cities, while also broadening the role of the lighting infrastructure to make it central to the 'internet of things'.
A good example of this is the already apparent shift away from individual luminaires and lamps to connected lighting systems that take advantage of the inherent controllability of LED lighting. Not only are LEDs able to deliver more lumens of light per watt of electrical power consumed compared to traditional light sources, they can also be more closely aligned to the changing lighting requirements of each space.
For example, many local authorities are now using connected street lighting systems to enable remote monitoring of individual light points and intelligent management of all of the light points across a region. This supports smarter control, faster response to faults while avoiding resource-intensive 'scouting' activities.
Increasingly, these networks are also taking advantage of wireless communications built into lanterns or lighting columns - to deliver 'plug and play' connectivity without the added complexity and cost of commissioning.
In fact, these relatively simple aspects of control are just the tip of the iceberg. In our connected world the ability to share information between different, but interoperable, systems via a shared infrastructure is becoming an expectation. Given that the lighting network is already in place, and almost ubiquitous, it is the obvious choice as a 'backbone' for this enhanced communication through smart networks.
Thus, street lights connected through wireless digital hubs could use sensors to dim lighting when traffic or pedestrian activity is low. The same hub could also convey data from air pollution sensors, weather monitors and other 'smart city' applications. In this way, authorities would have access to predictive data that enables them to meet real time needs, such as influencing the behaviour of road users in response to weather or incidents.
Local colour
Another vital element of the controllability of LEDs is the opportunity to change the colour of the light to create a vast range of effects from subtle variation in hue to spectacular light shows. The fact that the lighting is all interconnected also means that street lighting can be linked to the exterior lighting of public buildings, monuments and other architectural features to create a 'joined up', dynamic lighting scenario across an entire town or city centre.
This principle has been used to stunning effect in the 'Rivers of Light' project in the Spanish city of Valladolid, where a dynamic LED lighting network has been installed to create an illuminated route for tourists to highlight the city's historical landmarks. Using centralised, control with wireless connections, the colour of the lighting can also be changed to mark significant events, while tourists can download an 'app' that enables further interaction with the lighting.
Crucially, the significant energy savings achieved have made the project self-funding, while tourist numbers have increased significantly.
These same principles can be applied at almost any scale, from a small square to an entire city centre, using light to rejuvenate spaces, create or boost an evening economy and attract investment. Simply improving the quality and distribution of the light can make a big difference – using colour changing brings a whole new dynamic to the town planner's repertoire.
Power over Ethernet (PoE)
In buildings we have already seen some convergence between systems such as lighting, HVAC, blinds etc. but this interoperability has often been constrained by the use of different communication protocols. The sea change comes when all of these products and systems are linked through a common Internet Protocol to create a smart, connected system.
The low power requirements of LED lighting enables the ethernet cabling already used for the building's IT networks to be used for power as well as data, thereby greatly reducing cabling requirements. Moreover, ethernet cable is able to carry much higher volumes of data than traditional twisted pair control cable so that it can be used to gather and transmit more than just information about the lighting.
One application of this principle is the use of occupancy sensors connected to the lighting to also gather data about space usage. Such information helps building operators gain a better understanding of space utilisation, with a view to managing that space more efficiently.
One such building is The Edge, a 40,000m2 multi-tenant office development and home of Deloitte's corporate headquarters in Amsterdam. Opened in 2015, it received an outstanding score of 98.36% – the highest ever awarded – from BREEAM, the world's leading design and assessment method for sustainable buildings. In developing the building, OVG Real Estate and Deloitte worked closely with Philips Lighting who delivered a connected lighting system that uses cutting-edge technologies to enhance the flexibility of the open-plan office. The system uses nearly 6,500 connected LED luminaires to create a 'digital ceiling' in the building's 15 storeys.
With integrated sensors in 3,000 of these luminaires, linked to lighting management software, the system captures, stores, shares and distributes information throughout the illuminated space. In parallel, it also enables staff to personalise the lighting and temperature of their workspaces through a smartphone app.
Undoubtedly, a principal driver for the majority of public lighting projects will continue be the desire to reduce energy consumption and environmental impact. The fact that LEDs offer those benefits in spades, while opening the door to many other opportunities to improve urban environments, continues to make them the perfect choice. The only outstanding question may be 'how connected do you want to get?'.
Andy Gowen is director of public lighting with Philips Lighting