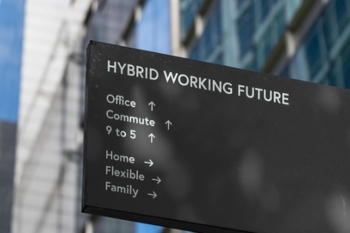 How do you reduce property portfolios and physical workspaces to save money and make your real estate landscape more efficient, without diluting your overall service and value to the nation's taxpayers?
This is the big question that the public sector has been asking itself for the best part of 10 years now. Kickstarted by the Ministry of Justice's (MoJ) revised workplace strategy and 'People Plan' in 2014, public sector estate management has been under close scrutiny ever since; with each organisation tasked with reducing their property portfolios, without negatively affecting the efficiency and quality of service being provided.
Other leading institutions soon followed suit. The National Probation service sought to join with the MoJ in establishing a collaborative network that would reduce the number of physical sites to house employees.
Similarly, HMRC set out plans to consolidate its estate from more than 220 buildings, to under 20 regional hubs. And even the Cabinet Office announced the formulation of the Government Property Agency to oversee the entire public estate.
For a sector that relies heavily on face-to-face communication between both employees and citizens, this shift was laid out with a view to championing collaboration, enabling smoother engagement, and reducing the need for long-distance commutes through shared offices and regional hubs. However, amid this objective, there has been the small matter of a global pandemic added to the equation.
As a result, looking ahead to 2023 and circling back to that first – slightly tweaked – key question: How can the public sector reduce its real estate portfolio, while encouraging employees in-office during an era of hybrid working, without diluting the overall service and value to the nation's taxpayers?
Location, location, location
During the shift to hybrid, both public and private entities have faced familiar issues around communication, tech access, cybersecurity and preservation of business culture. However, given the former's pre-existing mission to scale-down its real estate, issues of location and workspace makeup have proved especially challenging to navigate.
Addressing location first, this aspect was already a large consideration as part of the consolidation effort; resulting in the formulation of hub networks. Through programmes such as the MoJ's 'The Way We Work (TW3)' and local government's 'One Public Estate' initiative, there has been a focus on creating numerous metropolitan hubs and associated mini-hub networks.
They have been promoted to enable civil servants to choose between locations, workspace formats, and appropriate environments, dependent on their scope of work. Moreover, through the creation of shared spaces, a worker's choice of location might also depend on who they need to collaborate with and to what extent.
Each hub's specific purpose or specialty was geared towards giving public servants a reason to travel further, should one of the removed workspaces leave them at a geographic disadvantage. Simply, the scope of the office should justify the length of time it takes to get there.
Given the more seismic shift away from traditional in-office working on a national scale, though, the onus on these hubs to be worth the trip has taken on even more significance. And that's why the challenge is about more than just location. The facilities incorporated, and the functionality of those hubs, also have to be on point.
A uniform transformation
Ultimately, if the public sector is reducing its real estate with a view to transforming the sector into one based on collaboration and specialist functions; then those new-look spaces must be ready before people arrive. More significantly, these networks of hubs have to all be ready and consistent; given that workers are being offered the choice of where to work from, based on their task, location or collaboration requirements. Finding what they need in one location will soon be undone if a later experience is less satisfactory at a different office.
Inevitably, the role of technology comes to the fore at this juncture, in providing a uniform, connected, consistent, real-time platform for workers to see what's available, when, for how long, and for which function.
Given the sensitivity of work conducted by public servants, resource management systems have traditionally been built on-premise to ensure restricted access and use. As more and more institutions seek to replicate the opportunity afforded by these hub networks, a similarly secure infrastructure has to be a priority, to pave the way for their use and optimisation.
Seamless usability
From a secure platform, the focus has to once again turn to usability and ease of management. Not only will some workers have seen their formerly nearby office removed in recent years, but they will be seeing their private sector counterparts achieve productivity and efficiency from home, while also aiding sustainability initiatives through reduced commutes.
Public players have to be given not just a reason to travel further, but a seamless experience in arranging those visits. If each new-look space is channelled towards project completion, collaborative areas, events, onboarding, presentations, public engagement and stakeholder meetings – rather than the rethought hot desk setups earmarked for private businesses – then there needs to be clarity about when and where these areas are available.
Adopting a workflow management and booking tool as part of this hub infrastructure suite, is therefore crucial to offering real-time insight into which rooms are free, which tech is available, and what the capacity and atmosphere is likely to be at the potential time of any proposed visit. Realising a decade of ambition
Ultimately, what this means for impacted organisations is a complete rethink, not just about how much office space they need, but the workplace strategy around what's left. Where is the optimum location of this reduced real estate? What facilities are required within if workers already have most of their tools in mobile form? Are all these desks needed if most are coming in to conduct meetings or presentations? Can workers see, in real-time, what the scope of each workspace is and where best to attend? Can they subsequently book time and space with ease? And, can all of this transpire as part of a shared space with another entity?
If these questions can be answered effectively, then there is a huge opportunity in front of public organisations. Not only will a reduced and optimised hub network save money in office rent, maintenance, energy and building services, but that money can be redirected into improved end products and services – i.e., greater value for taxpayers. Meanwhile, contributions to the green agenda will also be championed through a reduced network of offices and more targeted visits for each worker.
In this vein, the latest stage of an ongoing effort from the public sector to reduce its real estate depends on innovation. Already, the very formulation of hubs is being underpinned by infrastructures that can yield improved security, collaboration and connectivity.
This must now translate to workers themselves who continue to adjust to this transformed ecosystem. Before they enjoy new projected levels of productivity and performance, they must also be presented with an accessible, simple, understandable and accurate picture of what's available to them.
Getting this final aspect right is likely to realise the past decade of ambition to make the public sector an agile, sustainable and mission-driven entity, while also aligning more suitably to the modern hybrid world.
Kieron Murphy is chief customer officer at Matrix Booking.