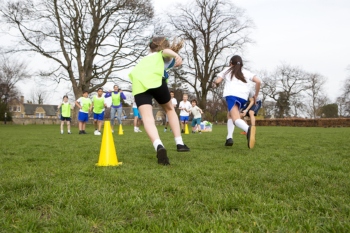 More than two-thirds of parents have warned their children are less physically active than before the start of the pandemic in a new survey.
The research, commissioned by children's charity the Youth Sport Trust, found only a fifth of parents say their children are active for the recommended 60 minutes a day.
A further 11% say their children are currently doing no activity at all.
The Youth Sport Trust have called on the remainder of this academic year to be characterised by a renewed focus on sport, physical activity and physical education.
Ali Oliver, chief executive of the Youth Sport Trust, said: 'We know that the last year has taken a significant toll on young people's wellbeing. That so many parents have seen a decline in young people's engagement in physical activity is extremely concerning. It is especially worrying that as many as one in ten parents believe their children are now completely inactive.
'Active young people are healthier, happier and better equipped to learn. Next week pupils will be returning to the classroom in need of support rebuilding their confidence, sense of belonging and wellbeing. After a year of huge disruption and inactivity, schools' essential role in getting them active and nurturing their enjoyment of sport and movement again will never have been more important.'