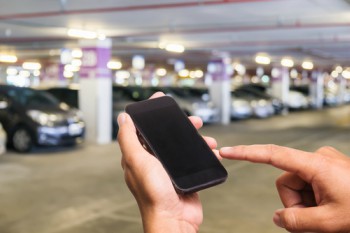 Seven out of ten drivers are more likely to drive by than park somewhere they can only pay by phone, potentially driving customers away from struggling high streets, according to the AA.
An AA-Populus poll of more than 16,500 AA members found that paying for parking by cash remains the preferred option although nearly two thirds (64%) of drivers said it is often a challenge to find the right change.
Seven out of ten (70%) drivers said they are sceptical about using pay by phone systems as they often carry administration fees.
Jack Cousens, head of roads policy for the AA, said most drivers do not care how they pay but pay by phone systems make things difficult for people, including having to talk to automated systems.
He said: 'Putting administration fees on parking, not yet accepting the new £1 coin, having to enter your registration number or failing to provide change are all stumbling blocks our struggling high streets cannot afford if they deter potential customers.
'All providers should make it easier to pay for parking. Not everyone has a smartphone to pay via an app and not everyone is keen to talk to a robot to pay for an hour's stay. For the elderly and low income drivers, pay by phone feels almost discriminatory.'
The AA said difficulty finding change may be due to machines that do not give change and also pointed to its recent research which found that more than one in five councils had not installed the necessary software to accept the new £1 coin.
When responding to that research, many councils indicated that they intended to introduce pay by phone systems. However, 44% of drivers say that they would find this a problem as they mainly pay for things by cash.