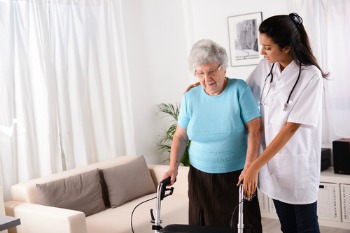 People aged over 40 should pay a dedicated social care premium to fund free care in the future, MPs have said.
Council tax valuations and bands should also be reformed and allowed to use the proceeds from additional business rates retention in 2020 to fund social care.
The recommendations are part of a report by the Housing, Communities and Local Government and Health and Social Care committees, which argued the current system is 'not fit to respond to the demographic trends of the future' as a funding gap of £2.5bn looms in the next financial year.
MPs suggested employers and individuals aged over 40, including those over 65, could pay into a dedicated fund to help pay for the growing demand for adult social care.
Social care would be free at the point of delivery for the personal element, such as help with washing, dressing and eating, while accommodation costs would continue to be means-tested, although, initially, free care would be extended solely to people deemed to have 'critical' needs.
Further funding reforms suggested in the report include levying an extra amount of inheritance tax on estates valued above a certain threshold and capped at a percentage of the total value.
President of the Association of Directors of Adult Social Services (ADASS), Glen Garrod, said: 'This important contribution puts on record cross-party support for a long-term funding solution for adult social care.
'The amount of evidence is overwhelming - the case has been made and it is now critical that the Government makes significant progress in finding a necessary solution for a vital public service.'
However, chairman of the Local Government Association's community wellbeing board,Cllr Izzi Seccombe, was concerned the proposals did not go far enough.
She said: 'Councils should have full flexibility over council tax banding and we continue to urge the Government to move to local retention of 100% business rates without the transfer of additional responsibilities.'