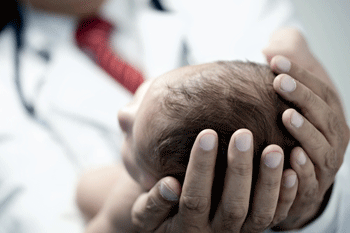 MPs have called on the Government to publish a dedicated COVID-19 recovery strategy for new parents which should include a fund to help councils arrange in-person visits.
The Petitions Committee has launched a report, Impact of COVID-19 on new parents: one year on, which urges the Government to publish a pandemic recovery strategy for new parents that brings together all Government actions to support this group, with a clear delivery plan.
The report also recommends that the Government fund local authorities to help them arrange in-person visits to new parents, and provide additional funding to allow catch-up mental health support.
This new report follows the committee's inquiry last year into the impact of COVID-19 on new parents after an e-petition – 'Extend maternity leave by 3 months with pay in light of COVID-19' – received 238,884 signatures.
The committee's resulting report, published in July 2020, found that 'the impact of the pandemic on new parents and their children has so far not been given as much attention as it should have been.' In their response to the report, the Government expressed sympathy but did not accept the committee's recommendations.
'With regard to the recommendation that relates to the subject matter of the petition, having carefully considered the evidence that is available, we are still not persuaded that there is a need to extend entitlements to paid Maternity Leave at this time,' said Paul Scully MP, Minister for Small Business, Consumers and Labour Markets, and Minister for London.
'There are a number of reasons for this, the most pertinent of which is that we still believe that the current arrangements for Maternity Leave and Pay are sufficiently generous to cater for a wide variety of circumstances that expectant and new mothers may find themselves in—including during lockdown.'
The Petitions Committee took further evidence this year from campaigners and experts on the experiences of new parents, and carried out a survey and online engagement which received over 8,700 responses.
Among its key findings, 77% of new parents said that 'the cost of childcare has prevented me from getting the kind of childcare I need', and 93% disagreed that they had been able to access crucial baby and toddler groups over the past 12 months.
In their latest report, the Petitions Committee attempts to address the concerns raised in their engagement with parents and childcare providers.
As well as recommending a dedicated COVID-19 recovery strategy for new parents, the committee urges the Government to review monitoring and enforcement activity relating to employers' health and safety obligations to pregnant women, and legislate to introduce the planned extension of redundancy protections for new and expectant mothers. The committee also calls for a review of the funding and affordability of childcare.
'It is extremely concerning that over a year after the publication of the committee's first report on this subject, there has been little or no progress on the overwhelming majority of our recommendations,' said the committee chair, Catherine McKinnell MP.
'The Government has offered no 'catch-up' funding to help new parents access support services disrupted during the pandemic, and no targeted funding to provide extra mental health support specifically for new parents.
'It has also failed to deliver the extension of redundancy protections for new parents it promised in its response to our report last year.'
Ms McKinnell added: 'Although the Government's plans for long-term capacity-building in areas such as perinatal mental health and children's development in the first 1001 days are positive, these do not go far enough to address the immediate needs of new parents or their children.'
Responding to the report, a Government spokesperson said: 'We recognise the challenges faced by new parents during the pandemic which is why we have increased support for them.
'This includes expanding specialist mental health services, making an unprecedented investment in childcare, and introducing parental bereavement leave.
'We will respond to the committee's recommendations in full in due course.'