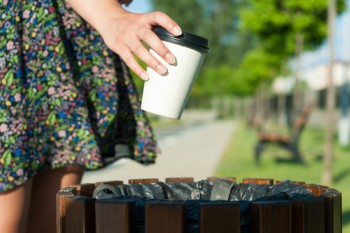 A 25p levy should be applied to all disposable coffee cups and a target set to recycle all cups by 2023, MPs have said today.
The Environmental Audit Committee said the money raised through the levy could improve the UK's recycling facilities.
It also wants the Government to ban disposable coffee cups unless they are all recycled by 2023.
Chair of the Environmental Audit Committee, Mary Creagh, said: 'The UK throws away 2.5 billion disposable coffee cups every year; enough to circle the planet five and a half times. Almost none are recycled and half a million a day are littered. Coffee cup producers and distributors have not taken action to rectify this and Government has sat on its hands.
'The UK's coffee shop market is expanding rapidly, so we need to kick start a revolution in recycling.'
The Local Government Association (LGA) said it costs councils more to recycle coffee cups as they are coated with a plastic layer that can contaminate other materials.
'Councils have made significant progress in increasing levels of recycling, but this is frequently undermined by the scourge of disposable coffee cups, which have become a huge problem,' said cllr Martin Tett, the LGA's environment spokesman.
'We have long called for industry to step up and show more responsibility in tackling this issue, and councils would be keen to work with producers and discuss how the design and recycling of coffee cups can be improved.'