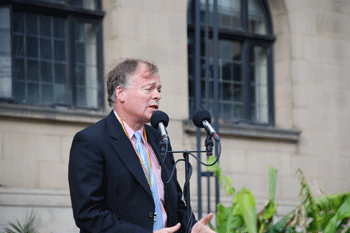 MPs have called on the Government to ban the use of desktop studies in the safety assessment of materials used in the cladding of high-rise buildings.
Clive Betts, chair of the Housing, Communities and Local Government Committee, has written to the secretary of state for housing James Brokenshire describing the studies as 'clearly dangerous.'
Desktop studies are safety assessments carried out without any tests.
Mr Betts' letter comes as Whitehall is considering a ban in light of recommendations made in Dame Judith Hackitt's review into Building Regulations and Fire Safety, established by the following the Grenfell Tower fire tragedy.
Dame Hackitt's interim report, published last year, recommended the Government should 'significantly restrict' the use of 'desktop studies'.
'We are concerned that the over-use of desktop studies may be a contributory factor to a weaker, less stringent regulatory regime and increases the likelihood of dangerous materials being used on high-rise residential buildings,' Mr Betts wrote.
He also repeated the committee's view that the use of combustible materials in the cladding of high-rise buildings should be banned altogether.