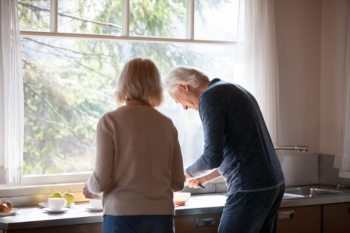 A cross-party group of MPs and Peers have called on the Government to take urgent action to improve housing and care options for older people.
The call was part of a new Housing with Care Grey Paper which stresses that 'the COVID-19 pandemic has illuminated the urgent need to provide better support for older and more vulnerable people'.
The paper, which features essays and policy recommendations from 14 authors including politicians from the Conservatives, Labour, Liberal Democrats and SNP, calls for a sustainable funding formula for social care, including a Universal Care Entitlement.
It also emphasises the need for greater clarity in the planning system to define different types of older people's housing, including a new planning category for housing with care.
Better financial incentives for older people to 'rightsize' into more suitable properties should also be introduced, according to the paper.
'The new Housing with Care Grey Paper demonstrates just how much cross-party and cross-society support there is for better housing provision and expansion of care options for older people,' said Michael Voges, executive director of ARCO.
'We're delighted to have received 14 thoughtful and incisive contributions from figures across politics, academia, finance, housing and more, and we urge the Government to take their recommendations seriously.
'What unites the pieces is the sense that bringing about change is going to require cross-government action, and that's exactly why we're calling for a Housing with Care Task Force to be set up with immediate effect.'
The paper also recommends expanding the number of 'lifetime homes' fit for all ages and securing a better deal for paid and unpaid care workers.
It also calls for the creation of a cross-government Housing with Care Task Force.
Bob Blackman, Conservative MP and member of the Housing, Communities and Local Government Select Committee, said: 'There is growing interest from both the public and private sector in housing with care for older people – but a number of policy obstacles are currently holding growth back.
'There are a staggering number of terms used to describe housing with care, and we've got to get a lot clearer with definitions so that policy-makers and older people alike know what different housing options are. Targets need to be set for each type so that we increase supply quickly.
'Only by taking action now will we create housing and care options which provide independence, health and social integration for older people.'
Lord Foulkes, Labour Peer and former director of Age Concern Scotland, commented: 'The COVID-19 pandemic has provided a dramatic insight into the vital role played by housing with care settings in providing high-quality care and support to older people.
'We urgently need to draw on the experience of countries like New Zealand and Australia to expand the sector and provide a true diversity of housing and care options for those in later life.
'I strongly support the call for a national Housing with Care Task Force to achieve this – alongside an important role for devolved governments and local councils, who all have a part to play in transforming the lives of older people.'