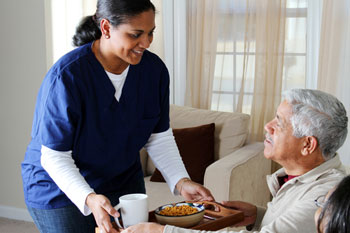 MPs have called on the Government to inject £8bn into the struggling social care system to restore it to pre-austerity levels.
The new report from the Economics Affairs Committee found that social care funding is £700m lower than 2010/11 in real terms, despite increasing demand.
The reduction of social care funding and the increase in demand has meant that local authorities have been forced to limit the number of people who receive public funding.
The committee estimates that more than 400,000 people have fallen out of the means test, which has not increased with inflation since 2010.
The committee, which was chaired by Lord Forsyth of Drumlean, also argued that social care funding is 'unfair'.
It said that funding is distributed unequally across local authorities, and that while healthcare is free at the point of use, people are expected to make 'a substantial personal contribution' towards their social care.
The funding shortfall has also meant councils are paying care providers a far lower rate for local authority-funded care recipients than self-funded care recipients. This has left care providers with a high proportion of local authority-funded care recipients struggling.
'The whole system is riddled with unfairness. Someone with dementia can pay hundreds of thousands of pounds for their care, while someone with cancer receives it for free,' commented Lord Forsyth.
'Local authorities are increasingly expected to fund social care themselves, despite differences in local care demands and budgets.
'Social care funding has decreased most in the most deprived areas. And local authorities can't afford to pay care providers a fair price, forcing providers to choose whether to market to those people who fund their own care or risk going bankrupt.'
The committee urged the Government to increase funding by £8bn to restore levels of quality and access to those observed in 2009/10.
It also recommended the Government introduce free personal care over the next five years, which would then become universally available by 2025/26.
Responding to the report, Sally Warren, director of policy at The King's Fund said: 'The social care system is no longer fit for purpose and is failing the people who use it, their families and carers.
'This report, from an influential cross-party group which includes two former chancellors, makes a strong case for immediate, additional public investment in social care.
'In the longer-term the case for change is overwhelming, and we welcome the committee's call to move towards a more generous system which would give more people access to publicly-funded social care as a useful contribution to the public debate.
'Any kind of fundamental reform will require more money – but continuing to patch up the current, failing system would be also costly and would not tackle its fundamental flaws which impact on families every day.'
Anita Charlesworth, director of research and economics at the Health Foundation, also welcomed the report which, she said, 'shines a welcome light on the perilous state of adult social care in England.'
'The Government must now find the political will to bring about a fairer, more sustainable system that protects more people from the catastrophic costs of care,' she said.
'It is inevitable that any serious reform will be expensive. If we don't want to further damage wider public services, the money will need to come from increased taxation.
'With so many failed attempts at reform, we now need an honest and open public debate about the level of support that the state will provide and how this will be paid for.'
A Department of Health and Social Care spokesperson said: 'We have given local authorities access to up to £3.9bn more dedicated funding for adult social care this year, and a further £410m is available for adults and children's services.
'We will set out our plans to reform the social care system at the earliest opportunity to ensure it is sustainable for the future.'