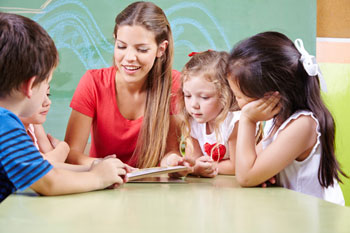 MPs have criticised the Government's 30 hours childcare commitment arguing that it 'confused' and 'entrenches' disadvantage.
A report by the Sutton Trust has revealed the attainment gap between disadvantaged children and their more advantaged counterparts is evident when children begin school aged five.
By this age there is a gap between them the equivalent of 4.3 months of learning, the social mobility think tank found.
This gap more than doubles to 9.5 months at the end of primary school, and then more than doubles again to 19.3 months at the end of secondary school.
A report from the Education Committee, published today, accused Whitehall of failing to tackle social injustice in early years education.
It recommended that the Government reform the 30 hours free childcare offer and target provision to early education for disadvantaged children.
The report also said maintained nursery schools should be fully funded.
The Government should also develop a comprehensive strategy to join up early years services and build on the success of children's centres and other provision, such as family hubs.
'Despite the good intentions and efforts made by the Government, there remain significant social injustices in children's life chances in England which early years childcare and education is failing to address,' said Robert Halfon MP, chair of the committee.
'Supporting a child in the early years of their life is crucial to tackling social injustice and giving children the best possible chance to succeed,' he continued.
'How well young people achieve at school has a massive impact on their life-chances.
'Sadly, we know that disadvantaged children start school behind their peers and that the gap widens, unless tackled, by the time they get to secondary school.
'But high-quality early years education, with well-trained professionals, can help to tackle this injustice and help these children climb the ladder of opportunity.'
Responding to the report, children and families minister Nadhim Zahawi said: 'We are investing more than £100m in projects targeted at improving the early outcomes for disadvantaged children, more nursery places and high-quality training, and we are increasing access to early education and childcare through our free offers for three-and-four-year-olds and the most disadvantaged two-year olds.'
'We have given councils the ability to make decisions best on their local circumstances,' he continued.
'Through our local government programme, worth £8.5m, and our £10m investment to understand what works in the early years, we will identify and spread best practice to close the gap between disadvantaged children and their peers.
'This will direct the steps we need to take to close the development gap, including considering any future consultation on the role of children's centres.'