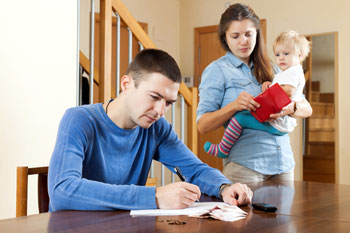 Low-income families and the very rich have been hit hardest by Coalition tax and benefit reforms, according to the Institute for Fiscal Studies (IFS).
While cuts to means-tested benefits and tax credits have left poorer families losing the most as a percentage of their income, Government approaches since 2010 have left middle to higher income working age families 'remarkably unscathed' – IFS analysis suggests.
The richest tenth of households have lost out the most in cash terms, partly due to tax rises introduced by Labour in April 2010 before the Coalition came into power.
Labour shadow Treasury minister, Cathy Jamieson, said: 'Families with children have been hit hardest of all by David Cameron's choices - a clear betrayal of his promise to lead the most family-friendly government ever.'
'For all the Government's claims, this report shows that they have raised tax by over £13.5 billion a year. And for millions of working people the rise in VAT and cuts to things like tax credits have more than offset changes to the personal allowance,' she added.
Chief executive of charity 4Children, Anne Longfield OBE, said: 'With wages stagnating and benefit changes having this effect, particularly on low income households, we know that many families are finding the cost of childcare overwhelming - leading them to consider giving up work as a result. Others are resorting to borrowing to cover the costs of essentials and entering into a cycle of debt from which it is difficult to escape.
'Families are our greatest asset and we need to help them flourish. Sure Start Children's Centres should be at the centre of any government's approach to bringing together childcare and other services which help support families in their daily lives.'
A Treasury spokesman said: 'The IFS confirms that the richest have lost the most from the Government's changes to taxes and welfare. Fairness is at the heart of our approach to reducing the deficit.
'UK income inequality is now lower than when this Government came into office and the recovery is being felt across the country. But the only sustainable way to raise living standards for all is to keep working through the plan that is securing a better future across the country.'