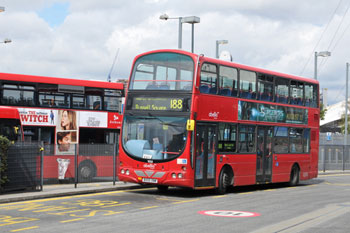 Wandsworth council has demanded to know why buses which were meant to be taken off the streets to cut pollution have instead just been switched to other routes.
London Mayor Sadiq Khan recently announced that Putney High Street was to become the capital's first 'low emission bus zone' by removing older, more polluting buses from service.
But the council says that instead of withdrawing the buses from service they have simply been switched to other routes nearby.
Wandsworth Council's environment spokesman Jonathan Cook said the change means that many more bus journeys were now being made by the older buses, often running past schools and nurseries.
It meant the air quality in some parts of the borough would be worse.
Cllr Cook said the council had been in the forefront of efforts to tackle Putney's pollution problem and welcomed steps to improve air quality in the high street.
But he added: 'However, we do not believe that relocating some heavily polluting buses to other areas in Wandsworth is any kind of solution.'